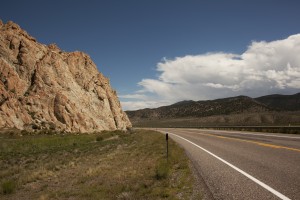 Sometimes something works out in ways you would've never imagined. In fact, that seems to be a pretty common theme of this adventure so far. Thankfully, the Lord has continued to make things work out better than we could've expected or even hoped.
If you read about our recent craziness in Beaver, Utah, (you can check out this post to see what we mean), you'll know that we had an unexpected mess that was resolved by some incredibly helpful people. Oddly enough (or maybe not oddly at all), the same thing happened two days later.
As we made our way from Beaver to Circleville, Utah, Lindsie's shoes were pretty much clinging on to their last shreds of dignity. In fact, one of her shoes had a hole in the bottom you could literally poke your finger through – that's how worn out they were. Thankfully, we knew her newest pair of shoes was being held at Stan's Mart in Circleville, and she'd be ready to put 'em on and continue down the road once we picked them up.
Or so we thought.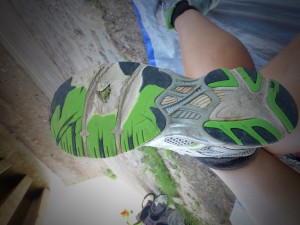 But when we arrived at Stan's, we quickly learned that the UPS folks had picked them back up from Stan's and sent them back to the shoe company. Apparently there was a miscommunication and someone thought we'd be picking them up within a day or two, even though we were over 80 miles away when they were dropped off and Lindsie had said very clearly, "We're walking across the country, so it will take us a few days to pick them up."
Regardless of whose fault it was, Lindsie no longer had the new shoes she'd been expecting, and UPS said it would take a minimum of 3-4 days (thanks to the Labor Day weekend) before they'd arrive. We were stuck in a pretty small town with no wearable shoes for Lindsie. She was either going to have to walk 3-4 days in her old shoes or we'd have to wait 3-4 days in Circleville for new shoes to arrive. Neither option was ideal. The other problem? Lindsie wears a size 11 in shoes, which isn't a terribly common shoe size for women, and in a town of 400-ish people, randomly finding someone with size 11 shoes wouldn't be easy. Once again, we were praying for some miraculous resolution to our situation.
Enter Karen Karbach.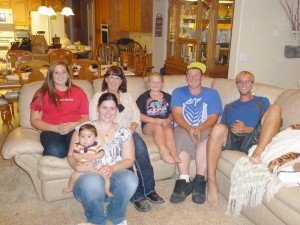 Karen and her family had seen us ALLLL the way back in Nevada over a month ago when we were walking along Highway 50. They'd been driving to Reno and noticed us on the way there and back. Her son, Scott, had seen us in Circleville and told his mom, "I think those are the people we saw walking in Nevada." She didn't believe him, so she came up and asked us if we were the same people.
Not surprisingly, we were the same people.
Karen wondered what we were doing in Circleville, and Lindsie explained the shoe situation. Then we heard the magic (or should we say, blessed) words…
"I wear a size 11! And I have tons of extra walking and running shoes if you want to take some of them!"
Lindsie just about burst into tears right there on the sidewalk. Karen said she'd run home, grab a few pairs of shoes, and Lindsie could try on and take any shoes that fit.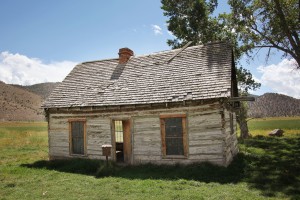 A few minutes later, Lindsie had a perfectly-fitting pair of Sauconys that would easily get us by until we arrived in Loa (60 miles down the road) and got her real new shoes. Then Karen said, "We're running to Walmart in Richfield soon, so if you guys need anything while we're there just let me know."
Frankly, it was kind of nice just to know Walmart still existed, as we haven't seen one in over a month now. We actually did have a need at Walmart, as our lone iPod cord had just shorted out that day, so we were happy to get a few of those without having to pay $30 at a gas station for an iPod cord.
Karen and her kids went to Walmart, got their stuff, got our iPod cords, and came back. Oh, and did I mention they let us do laundry at their place so we wouldn't have to pay for it? Because they did that too.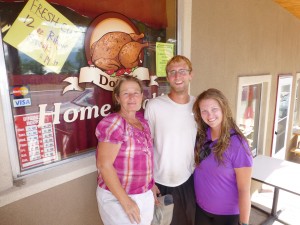 On top of that, a woman named Dottie who owns a delicious–and very fairly-priced (particularly for being in a small town)–cafe told us we could have breakfast at her place for free the next morning, which was a really welcome blessing for sure.
The next morning we got up to leave, and, since it was Lindsie's birthday, we didn't want to put in a full 20-mile day of walking. So, of course, Karen asked if we wanted to hang out at their place for the afternoon and ride four-wheelers (and their sweet electric car), visit Butch Cassidy's childhood home, have dinner with them, and, to cap off the night, shoot of fireworks for Lindsie's birthday. And at that point, they invited us just to stay at their house instead of trying to camp right outside of town for the night or pay for another hotel stay.
Needless to say, it was a VERY happy (and fun) birthday for Lindsie, and we were grateful to spend so much time with yet another wonderful, awesome family like the Karbachs. Karen and her son Scott, her daughters Nicole and Danielle, and her sort of daughter Kasey (and her son Brayden) are just overly friendly, laid back people, and we were blessed to be staying an extra day and enjoying their company. Karen's husband, Kraig, was working in California for Labor Day car sales, so we didn't get to meet him, but he also seems like a great person.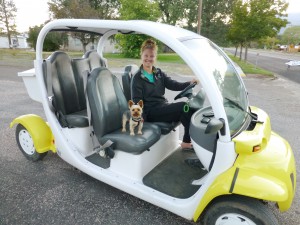 All in all, what went from a disaster of lost shoes and a sad birthday turned into another miraculous blessing (I mean, really, the only reason they even talked to us is because they'd seen us walking over a MONTH ago in a totally different state? That's too much of a coincidence to simply be a coincidence as far as we're concerned…), and we are thankful yet again that the Lord is watching out for us and taking care of us on this journey.
Thanks to everyone who has wished Lindsie a happy birthday and supported us with encouraging words as we trek across Utah. We feel so thankful and blessed and we're excited to share more with you.
Also, don't forget to check out our new website (thanks to Jonathan Kurten of Jonathan Kurten Design), which we are extremely proud of and excited about. Just visit stormingjericho.com to see it in all of its magnificent glory.
We'll have more info soon as we continue on across Utah. We truly look forward to seeing what other blessings God puts in our path and sharing them with you as we go.
Keep on stormin', everybody!
-Mike (and Lindsie…if she doesn't leave me for saying things like "Keep on stormin'!" that is…)